About me
I'm born March 1966, so that makes me ..... *getting kind of old*
I live in The Netherlands but I also lived in Belgium and Norway.
I live together with the love of my life for 17 years now.
Together we have a little daughter
I'm addicted to the programm Paint Shop Pro (PSP) and as from September 2003 I discovered the world of dolling.
So, hmmm yes I'm also addicted making dolls now
I write tutorials for PSP, I started with tutorials for frames but nowadays I also make tutorials for dolls and pixelpainting
Besides PSP, I like to read, make 3D-cards, webdesign, and gardening.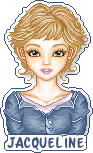 That's about it for now, perhaps more later :) ------