Pixelportraits
Een portret in pixels! / A portrait pixeled!
'Pixelen' van gezichten is zo ontzettend leuk om te doen! Elk gezicht is anders en dat maakt het ook steeds weer een uitdaging!
Pixelpainting is such fun to do! Especially faces are great, allways different so each time a challenge!
Interested in a pixel portrait of yourself or someone special?
For just a small amount (depending on size and difficulty up from 7 Euro/USD) I'll make you one!
Note: the pixel portraits are becasue of the size, initially not suitable for high quality printing (except, because the small size for postmarks, see below). If you want a bigger portrai (also in higher resolution) mention this in your email, if possible mention what you want to do with it).
Ge´nteresseerd in een gepixelt portret van jezelf of een speciaal iemand?
Voor een klein bedrag (afhankelijk van grootte en moeilijkheid vanaf 7 Euro) maak ik die voor je!
Note: de basis pixel portretten zijn, vanwege de grootte,in eerste instantie niet bedoeld om te printen (behalve voor postzegels, zie hieronder). Als een groter portret gewenst is (ook in een hogere resolutie) vermeld dit dan in de email, met, indien mogelijk, indien mogelijk wat u met het portret wilt doen (printen als poster/printen op mousemat enz...).
TIP!
What about a postmark of you one? In the Netherlands there is a possibility to make your one postmark! I do not know about other countries but I'll bet it's also in yours!
Wat dacht je van een eigen postzegel!
Verzorgd door TGP Post dus ze zijn geldig als echte postzegel!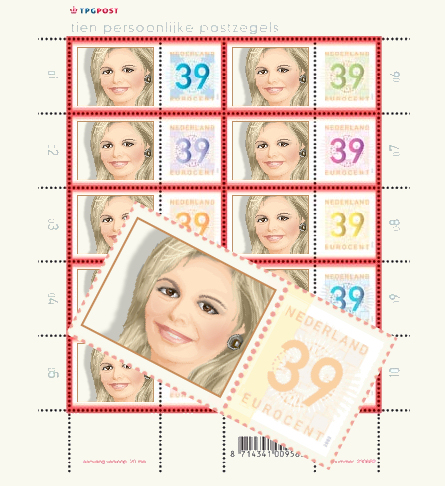 If you are interested in possibillies and prices,
Ge´nteresseerd in mogelijkheden en prijzen, .